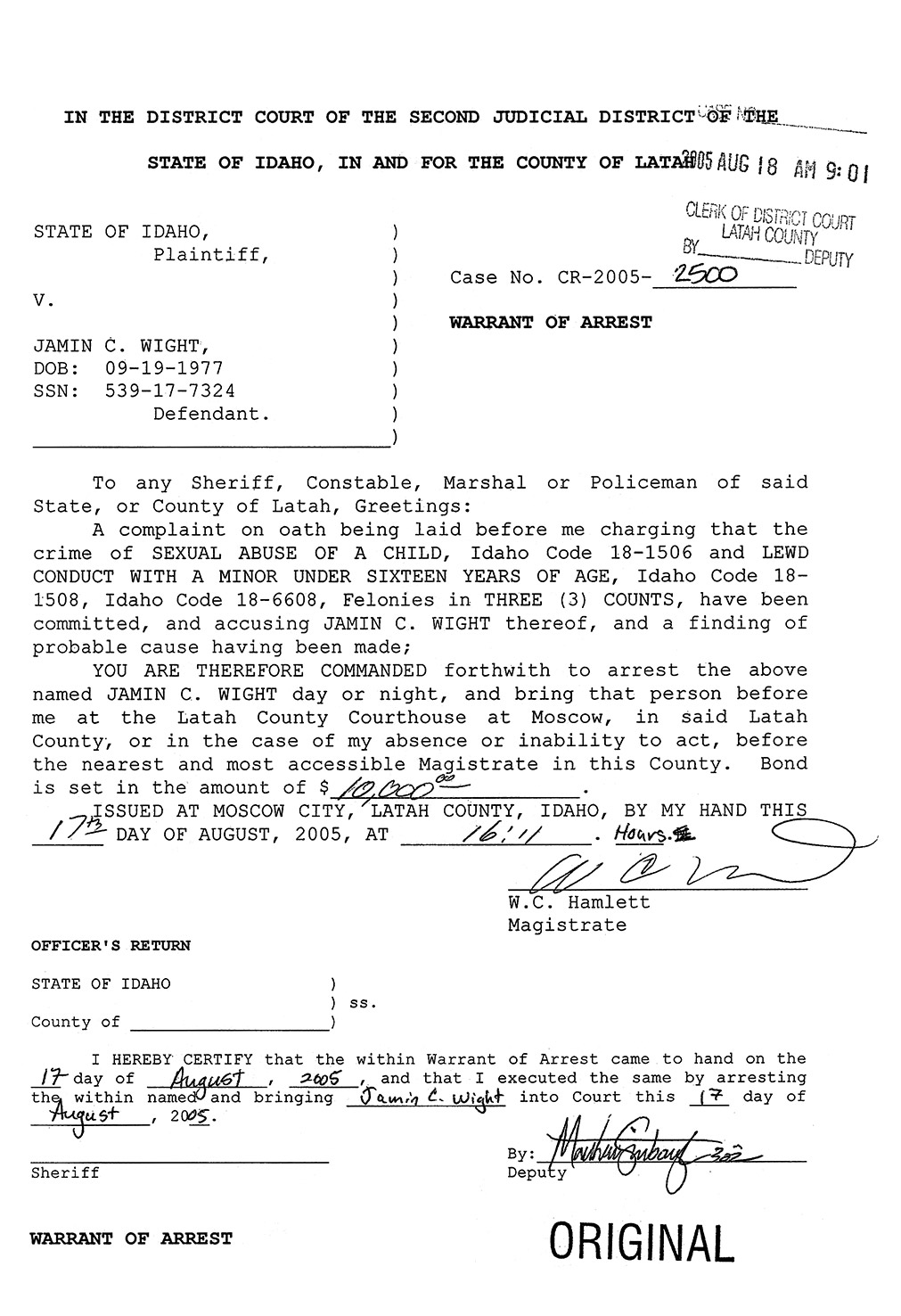 IN THE DISTRICT COURT OF THE SECOND JUDICIAL DISTRICT OF THE STATE OF IDAHO IN AND FOR THE COUNTY OF LATAH

STATE OF IDAHO,
Plaintiff,
V.
JAMIN C. WIGHT,
DOB: 09-19-1977
SSN: 539-17-7324
Defendant.

Case No. CR-2005-2500
WARRANT OF ARREST

To any Sheriff, Constable, Marshal or Policeman of said State, or County of Latah, Greetings:

A complaint on oath being laid before me charging that the crime of SEXUAL ABUSE OF A CHILD, Idaho Code 18-1506 and LEWD CONDUCT WITH A MINOR UNDER SIXTEEN YEARS OF AGE, Idaho Code 18-1508, Idaho Code 18-6608, Felonies in THREE (3) COUNTS, have been committed, and accusing JAMIN C. WIGHT thereof, and a finding of probable cause having been made;

YOU ARE THEREFORE COMMANDED forthwith to arrest the above named JAMIN C. WIGHT day or night, and bring that person before me at the Latah County Courthouse at Moscow, in said Latah County or in the case of my absence or inability to act, before the nearest and most accessible Magistrate in this County. Bond is set in the amount of $10,000.

ISSUED AT MOSCOW CITY, LATAH COUNTY, IDAHO, BY MY HAND THIS 17th DAY OF AUGUST, 2005, AT 16:11. Hours.

W.C. Hamlett
Magistrate

OFFICER'S RETURN

STATE OF IDAHO
County of

I HEREBY CERTIFY that the within Warrant of Arrest came to hand on the 17th day of August, 2005, and that I executed the same by arresting the within named and bringing Jamin C. Wight into Court this 17 day of August, 2005.